Donate

These values guide us and our partnerships:
• The ultimate goal is poverty eradication, not just relieving difficult circumstances.

• Adopt a holistic approach to the challenges confronting children. Children are an integral part of families and communities. Their well-being depends on the well-being of their environment.

• Work for the change of societal norms which force children to focus only on their basic needs. The absence of hunger, abuse, exploitation and homelessness are basic conditions that all children should enjoy.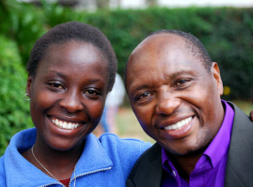 A special message from Founder AlyceJo Mwangi
AIDS is the leading cause of death in Africa, leaving many children parentless. Now you can help Child of Destiny rescue even more children from the slums of Nairobi, Kenya.

Having been orphaned at the age of 7 years, I experienced extreme hardship and misery. I grew up desiring to help others find hope. I founded Child of Destiny to support orphaned children victimized by the death of both parents from HIV/AIDS.

Now we have over 100 kids who call Jubilee Children's Center in Nairobi, Kenya, their permanent home. We have built separate dormitories for boys and girls, a 10-classroom primary school, and an administration center on 25 acres of land. The orphanage is professionally managed by a staff of 30 employees.