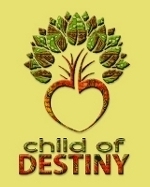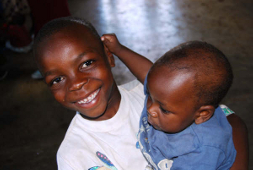 The kids at Jubilee Children's Center would like to tell you their stories, how they feel about your donations and the vast difference your kindness has made in their lives.

Donate

In their own words, here are the stories of some of the kids at Jubilee Children's Center near Nairobi, Kenya...
My name is Stella Ngendo and I was born on July 6th, 1991.

I was living with my mother and my aunties and uncles in Korogocho slums. I was schooling in a Catholic school.

In 1995, my mother and my other family disagreed with each other. She went to live in Mombasa from 1995 - 2000. By then I was living with my grandmother and my mother would send me Christmas clothes, shoes and other gifts through her friend.

In 2000 December, my mom started becoming sickly. As days went by, she became worse. It was not easy to continue with school because she could no longer work and provide for me and my sister.

In 2001, out of nowhere this man we called 'father' came to live with us. We stayed with him up to 2002 in August. He became sick and after sometime he died. It was hard to get food to eat because as I said earlier, she was not able to continue working to feed us.

We were having so many challenges at home that I decided to run away from home and be a street girls. In a short time my mother died. I came to learn later that she died of HIV/Aids. In 2003, my sister and I came to Jubilee Children Center.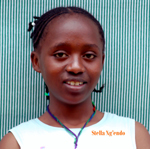 My name is Veronica Wanjiru and I am 14 years old. I came to Jubilee in August 2003 and I was very happy because I knew I would eat good food and sleep in a nice bed. When I was with my mother I did not get enough education but now I am getting good education.

I thank God because if I did not come to Jubilee I don't know where I could be. When my mother died, I thought that was the end of my life. I was brought me to this wonderful place where there are people who take good care of me. Here I have learned many things about God and it has helped me believe in myself.

Before I came to Jubilee, I lived with my mother in Mombasa. My mother started got very sick and she could not work anymore. We did not have enough food to each and could not go to school. One day our neighbors came and took my mother to the hospital.

We then started staying with our grandmother; my little brother was only eight months old. Mother continued to be sick and later died leaving us in the care of our grandmother who was not able to take care of us. One day my uncle came and took us and brought us to Jubilee. Now my brother and I have hope and a better future.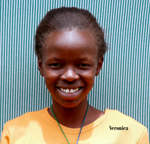 My name is Mary Nyambura and I was born on April 1st, 1991.

My parents lived in Mathare slums. They later divorced when I was still very young. After the divorce, my mother started drinking heavily. One day she became sick and was admitted in Kenyatta National Hospital for one week. After one week she came back and we stayed with my grandmother. In a few weeks she died by this time I was in class one. I stopped going to school because my grandmother could not afford to pay school fees. I was out of school for two years.

My grandmother later died in August 2001. My life became very difficult after the death of my grandmother. Aunties and uncles did not care what happened to me. They took everything my grandmother had and I was left alone.

I went without food and other necessities that I needed. I used to cry and regret why my mother gave birth to me; why did she die. I am all alone in the world.

Since I came to Jubilee, my life has completely changed and I thank God for what He is doing in my life. My life is now focused and I am looking forward to a great future.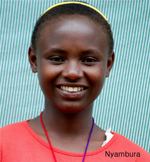 My name is Loise Njeri and I was born on February 14th, 1991. I lived with my parents for two years and afterward they divorced. I stayed with my mother and went to school. When I was in class 3, she became sick and slowly started losing weight and becoming weak. My unties took her to the hospital and she was admitted. After about one week, the illness worsened and she could take care of herself. She could not walk or stand. She died in 2000 leaving three of us alone.

Life became so unbearable that I desired to die and join my mother.

In February 2003 we came to Jubilee Children Center and since then my life has completely changed. I started school in class four here in Jubilee and now I am in class 8. God has provided everything I need through mum and dad (Pastor Alyce and Bishop Joe). I am very proud to call them my parents. I am living a good life here and looking forward to a bright future. Before my sister, my brother and I had nothing but now we have things like good food, nice clothes, gumboots, socks, shoes and quality education. I always say "I was not, but now I am and I didn't have but now I have". I feel honored and very proud to be in Jubilee a place more than a real home.

Since I started class 4 here in Jubilee, I have been the top student for the last four years. To God is all the glory. My future goal is to become a pilot or a bank manager. This is my greatest dream and I know I can accomplish being here in Jubilee. The other greatest desire I have is to help orphans and the disabled. I now understand the pain of being an orphan. But I am no longer an orphan because God has given me parents from His own heart and of His choice.

I always pray to forget all the difficulties that I have gone through and forgive those who mistreated us. I always pray my parents (Joe & Alyce) that God will given them long life that they will even see my children after me; I ask God to shower them with blessings from above. I pray for donors that God will bless the work of their hands.

I would have been a mother or died of HIV/AIDS by now if I did not come to Jubilee. Not only me but many of us girls here in Jubilee have almost similar stories of abuse and mistreatment.